WANCO's Flushed Floor Trunking System is the solution for indoor cable management in commercial, schools, institution, industrial or other similar mixed developments.
WANCO's Flushed Floor Trunking System consists of Service Outlet Boxes, Junction Boxes, Vertical Access Boxes, and Metal Ducting which encloses power, telephone, ancillary and also designed to support Cat 6 cabling requirements. Our floor boxes are IP2X rated in accordance with BS EN50085-1. A choice of 1, 2, or 3 compartment boxes are available according to the layout plans, desired configuration and services requirements.
WANCO's Flushed Floor Trunking System is made from galvanised steel, with the option of epoxy coating and can be supplied in various thickness based on requirements. The interior of the trunking system is well constructed to be free from sharp projections, to allow cables to be laid or drawn easily. Routing components such as intersection, bends, junctions and vertical access boxes form the system for cable management in Flushed access floors.
Flushed Floor Service Outlet Box
WANCO's Flushed Floor Service Boxes are installed flush with the panels of the Flushed Floor System. They are supplied complete with a presentable, easy-to-clean frame and a lid in charcoal colour.
A wide range of accessory plates to accommodate power, telephone, data, HDMI etc options is available, and they are interchangeable, allowing any combination to suit the required purposes. Accessory plates can be removed by 2 screws, without having to remove the service box.
Flushed Floor Trunking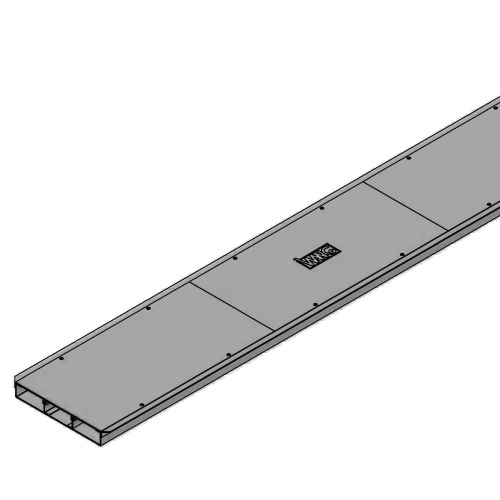 Junction Box
Vertical Access Box
Accessory Plates